Western Cover Society Presentation ** Via Zoom
January 19 @ 5:30 pm

-

7:00 pm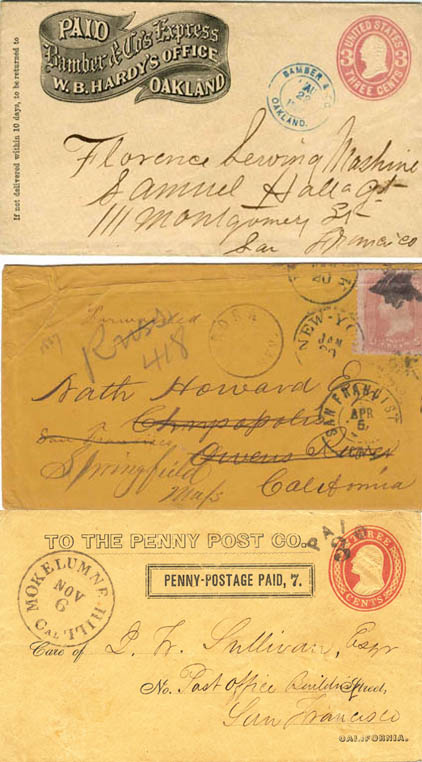 Western Cover Society Presentation
Fred Gregory and Ryan Baum and Gordon Eubanks
The Western Cover Society is devoted to the study and understanding of western mail. Since 1950, the WCS has been the premier conduit through which this information has been made available to members and fellow students. We publish the award winning journal, Western Express, quarterly. More information can be found on our website at westerncoversociety.org.
Fred Geogory became a trustee of the Philatelic Foundation in 2011. A stamp collector from boyhood days, he has focused his philatelic interest on the stamps and postal history of 19th century Hawaii for the past 40 years. Mentored by Hawaii collectors Thurston Twigg-Smith, Wallace Beardsley, Ed Burns and others from the prior generation, Fred became a recognized expert in Hawaiian philately. In the late 1990s, he created Post Office in Paradise, Mail & Postage Stamps of Nineteenth Century Hawaii (see www.hawaiianstamps.com). He has authored numerous articles on Hawaii stamps and postal history; he authored "Hawaii Foreign Mail to 1870", a three volume set edited by Robert Odenweller and published by the Philatelic Foundation in 2012, earning numerous awards at the national and international level. Fred is a member of the governing boards of several philatelic organizations.
Ryan Baum started collecting coins in kindergarten. This interest let to a career in finance and banking. A past Wells Fargo historian, Dr. Robert Chandler, converted him to a western express cover collecting a decade ago. His interest is on matching covers with local mining and commercial history. He is a member of the Western Express Society, American Philatelic Society, Mobile Post Office Society, Rhode Island Philatelic Society, and Universal Ship Cancel Society.
Chrysopolis: City of Gold – As short lived as a desert flower. Chryopolis was an ephemeral mining town that blossomed and faded in one of the most remote areas of California. Its postal history is rare with no outbound cover and can only be reconstructed through surviving inbound covers.
One coast to coast cover reveals its routing through its forwarding and return.
Gordon Eubanks:
San Francisco Penny Post: the business model, the opposition, ending in the trial The PP was a great idea that benefited the Post Office but they were extremely shortsighted and shut it down.