Thank you to all for your support and encouragement going forward. I am honored to serve as incoming President of The Collectors Club, and want to share my thoughts for going forward.
For those who don't know me personally, I collect and exhibit both US and Mexican postal history with an emphasis on Westward expansion during the 1840's along with a comprehensive collection of classic Mexico. Other areas are early airmails, revenues, and US precancels. Yes, they are disparate areas which always allow the pleasure of new acquisitions and discoveries!
Over the years I have also authored articles in several journals, contributed to research books, and served on several expert committees. I have also been President, senior officer, or Board member of several societies including the American Philatelic Society, MEPSI, American Airmail Society, American Philatelic Congress, and the Postal History Society. Now I have the honor of being President of my 'local stamp club'!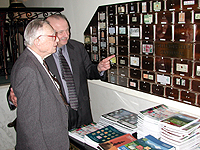 As a national and international judge I see firsthand how our hobby is represented around the country and the world. Many good ideas are practiced in various settings, and my mission is to implement some 'best practices' at The Collectors Club to enhance the member experience.
Meeting member expectations is essential to maintain relevance going forward. To meet this challenge we as a Board have heard from many members about what they think the Club can be, and also what can be done to enhance the experience. Several key areas have been selected for attention:
Recruit and retain depth of leadership and managerial talent: This seems simple on the surface, yet many groups rely on single individuals to carry out key functions. When that person is unable to continue on, there is a crisis which can be devastating for the group. In this vein, The Collectors Club welcomes several new Governors (Lawrence Haber, Matthew Healey, and Robert Gray) who bring a wealth of experience while also providing greater depth of leadership in critical areas such as finance, library, and publications/outreach. Joan Harmer is spearheading our technology buildout and maintaining a coordinated approach as we progress further into electronic outreach.
Empower committees and encourage innovative ideas. Board members will have responsibility or 'ownership' for specific Committees. This should enhance responsiveness and coordination between various areas of The Club. Some overlap of function is inevitable, and actually desired as the synergy can serve to better the membership experience.
Broaden outreach!!! Yes, we are going on the road. The Philatelic Foundation has invited us to share a table at WESTPEX (San Francisco) this April so we can meet and listen to West Coast members. This will be followed by our multi frame exhibit and seminars at NAPEX (Suburban Washington, DC) in June. Fall schedule will be determined soon.
Enhance our electronic outreach: we are in the process of beta testing the upgraded web site. Improvements include better access to video and slide presentations for many of the regular meetings. We are enhancing the financial transaction section to make membership dues and publications transactions easier, especially for overseas members. There will also be expanded ability to communicate, so valid email addresses will be a great aid. (Some are hesitant to share primary email addresses, so one thought is to set up an email account only for philatelic matters) We do not share or rent out our address lists!
The Collectors Club Philatelist and additional member publications are the focus of ongoing attention.
I want to hear from you, so please do not hesitate to write me care of The Club, email me at President@collectorsClub.org, of meet in person wherever opportunity allows. This first Presidents letter has barely begun to outline the many exciting possibilities going forward. Please allow the governing team and myself the opportunity to meet, or better yet exceed your expectations for what the Collectors Club can be!
See you soon, and please note that Wednesday May 3rd is our annual awards dinner honoring Alfred E. Lichtenstein medal winner Stephen Reinhard.
–Mark Banchik