3.2 Wine or Fermented Fruit Juice, a Short-Lived Idea, May 1-December 5. 1933 – Ron Lesher, Easton, MD
December 15, 2021 @ 5:30 pm

-

7:00 pm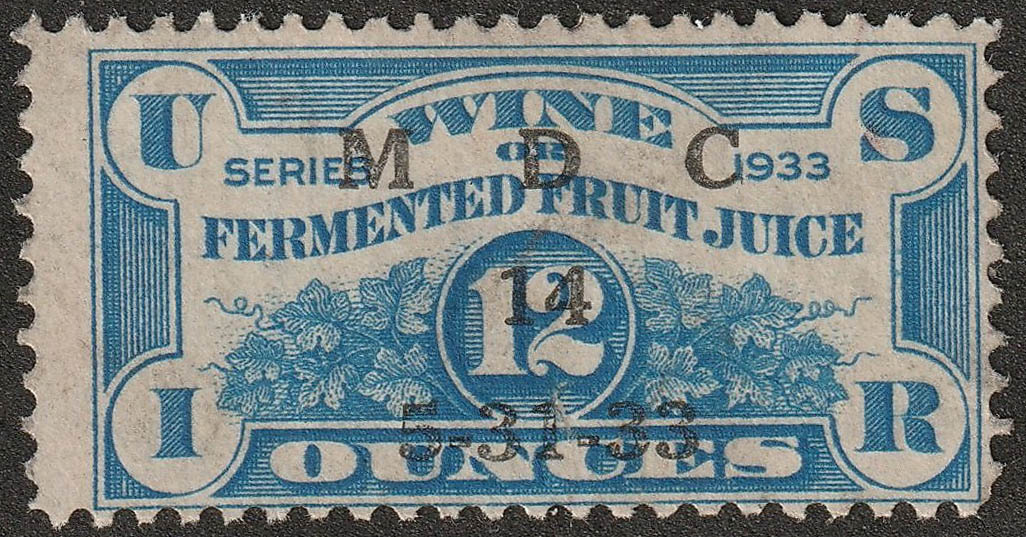 3.2 Wine or Fermented Fruit Juice, a Short-Lived Idea, May 1-December 5. 1933
Upon the inauguration of Franklin Delano Roosevelt, Congress rushed to redefine nonintoxicating beverages in the Volstead Act. Two days after the inauguration they passed the Act of March 22, 1933 with a limit of 3.2% alcohol for both beer and wine. This is the story of the special tax stamps for 3.2 wine.
Ron Lesher has been collecting stamps since January 17, 1956, that date indelibly engraved upon my brain, as it was the day that the Benjamin Franklin commemorative stamp was issued. It was in 1957 that a friend of the family introduced me to revenue stamps, recalling how he visited industrial sites in Reading, PA removing taxpaid stamps from drums of alcohol, stamps that remain unlisted in the Scott U.S. Specialized. These relatively obscure federal and state revenue stamps have become the mainstay of my collecting interests.

But it was my introduction to the late Ernest Wilkens that turned me on to exploring the back story of revenue stamps that led me to writing and researching the unexplored nooks and crannies, which eventually became the principal focus of my exhibiting and writing. Two explorations stand out. First was the discovery of the real use of the tapeworm revenues that led to an article in the 1990 American Philatelic Congress yearbook correcting the fantastic and inaccurate stories of the tapeworms written by Herman Hearst. Second was the combing of the records in the attic of the annex of the Bureau of Engraving & Printing that led to another American Philatelic Congress article in 2006 showing the chronological order of the Slaight lock seals. That research also led to the realization that some others of the lock seals that were thought to be essays were actually issued and used.

Along the way were a series of articles in The American Revenuer under the pseudonym of Ben Czech and a column in (Mid)Western Stamp Collector under another pseudonym, Roscoe Irwin, a name stolen from the 14th district of New York collector of Internal Revenue, who produced a series of surcharges on federal beer stamps in 1914. Throughout these years many of my research articles have also appeared in State Revenue News. Perhaps the most satisfying series of my writings has appeared in almost every issue of the American Stamp Dealer & Collector revealing many rewarding back stories of state and federal revenues.