Victoria Postal History- John Barwis, Holland, MI ** Via Zoom
October 12 @ 5:30 pm

-

7:30 pm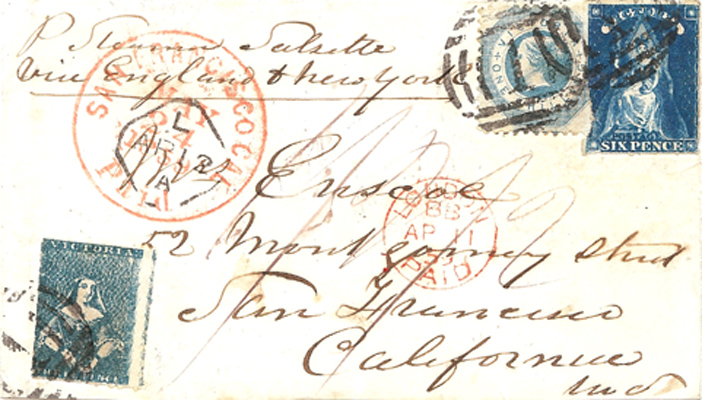 Victoria Postal History- John Barwis, Holland, MI
This presentation is an overview of how domestic and foreign mails were transported in and from the British colony of Victoria. The period covered begins in 1835, when the area – roughly the size of Great Britain – was called the Port Phillip District of New South Wales and its population comprised fewer than 180 non-aboriginal people. It continues into the late 19th Century when maritime mail routes had evolved along with advancements in steamship technology.

John Barwis was born in Brooklyn, New York in 1947, and spent his childhood in Pennsylvania. He was educated at Hope College, Temple University, and the University of South Carolina, where he earned a PhD in Geology. He served as Station Manager of ice station T-3 in the Arctic Ocean for the Office of Naval Research, conducted geological field work on five continents, was Senior Lecturer at the University of Cape Town, and performed coastal hydraulics research as a Lieutenant in the U.S. Army Corps of Engineers. He held positions in Royal Dutch/Shell subsidiaries, including Exploration Geologist, Manager of Geological Research, Chief Geologist, and finally Technical Director at Shell UK. He retired in 2003, and lives in the western Michigan forest with Susan, his lovely wife of 54 years.

John was lured into the philatelic world in the early 1950s by his grandmother, and never escaped. His traditional, postal history and literature exhibits have won many national and international awards, the most memorable of which was the grand award at Stampex 1999 in London for Victoria Half-Lengths – his first exhibit. An expanded version of that exhibit won the American Philatelic Society's national championship. He has published extensively in the philatelic literature, including a grand-award-winning handbook on the Half Lengths.

John's service to philately was simply a response to a need expressed by other leaders and friends. He is President Emeritus of the U.S. Philatelic Classics Society, serves as a member of the Finance Committee of the American Philatelic Society, and is past President of the Institute for Analytical Philately, of which he was co-Founder. He was recently honored with the Lichtenstein Medal by The Collectors Club in New York.