Indian Military Mail During the WWI Era – Robert Gray, Livingston, NJ ** At the Clubhouse and via Zoom
October 19 @ 5:30 pm

-

7:00 pm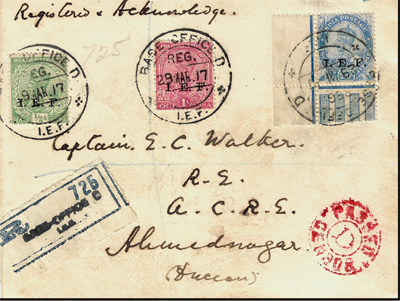 Indian Military Mail During the WWI Era – Robert Gray, Livingston, NJ
Register Now

This WWI era registered and acknowledged cover was sent by a civilian in Mesopotamia (Iraq) to a Captain in the Royal Artillery at Ahmednagar India. The cover was cancelled at the Base Post Office for Force D using Indian Expeditionary Force, I.E.F. overprinted stamps and bears a registration label and a circular hand stamp PASSED BY CENSOR D, both applied at Basra.

Robert Gray
Philatelic Club Memberships
Collectors Club: Board of Governors and Vice President. Chairman of Library Committee, and Advertising Manager for the Collectors Club Philatelist.
Other philatelic associations: India Study Circle, Royal Philatelic Society London, Civil Censorship Study Group, American Philatelic Society, and Forces Postal History Society.

Research
Published over 30 philatelic articles on India during WW I era
Mueller Award for best article in the American Philatelist for 2014: "Indian Army Postal Service in World War I"
Contributing author to the Smithsonian's The Tenth Winton M. Blount Postal History Symposium: World War I and Its Immediate Aftermath, 2022.
Current Project: A series of articles on WWI postal censorship in India for the Civil Censorship Study Group Bulletin

Collecting Interests
• WWI era India postal history, military mail, and censorship
• Indian state – Travancore (stamps)
• Pre-WW2 India Christmas Cards and related ephemera
Exhibiting
• Occasional Exhibitor