Collectors Club – STAMPEX 2021 Presentation
March 26 @ 5:00 pm

-

7:30 pm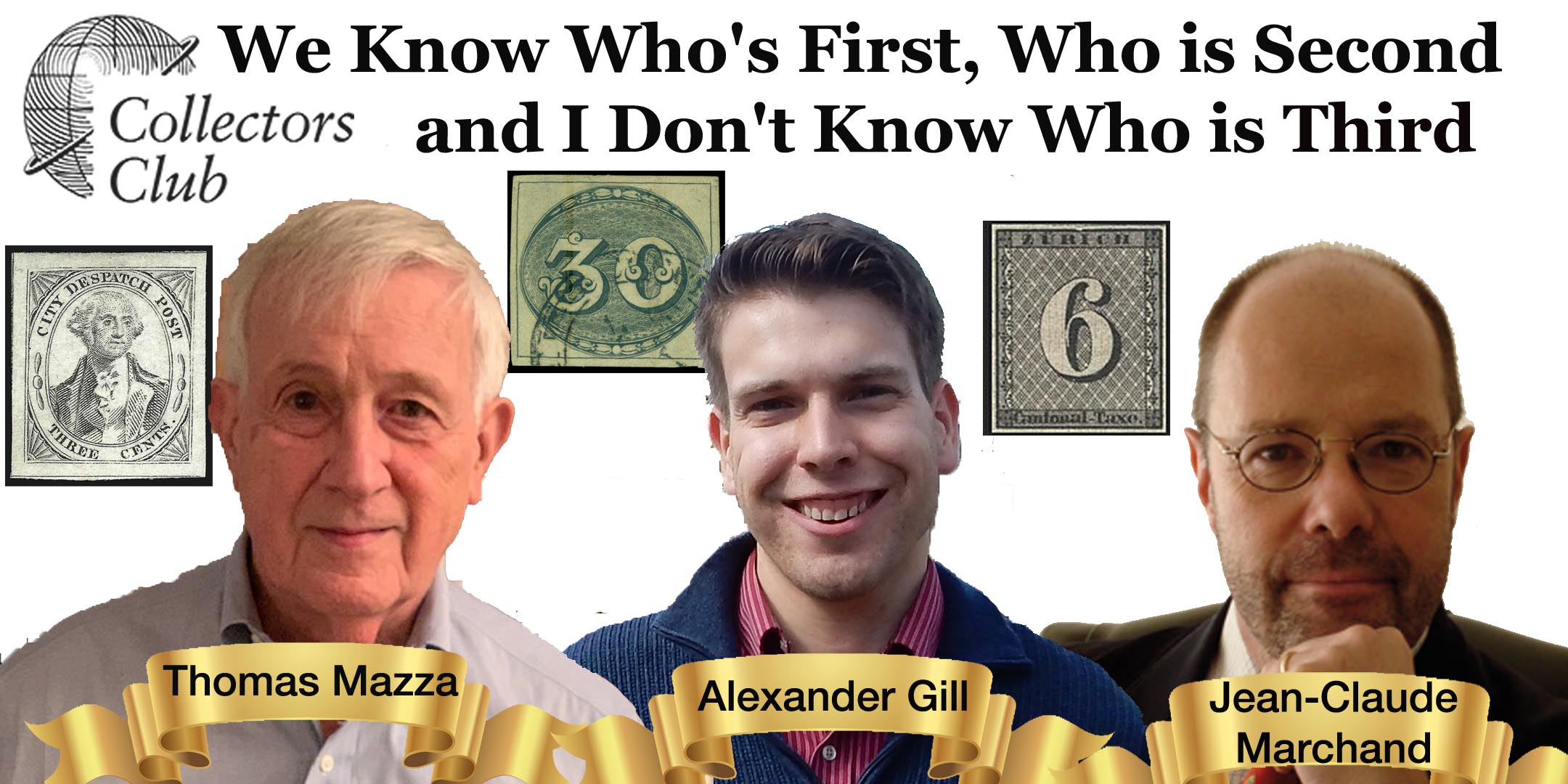 On Friday March 26, at 5 PM EDT NY (9pm in the UK) Collectors Club members Thomas Mazza, Alexander Gill, and Jean-Claud Marchand will present three virtual presentations at STAMPEX 2021.
The Collectors Club Presents: "We Know Who's First, Who is Second and I Don't Know Who is Third" – City Despatch Post with Thomas Mazza or Brazilian Bull's Eyes with Alexander Gill or Swiss Cantonal with Jean-Claude Marchand.
It has long been known that the United Kingdom issued the first postage stamp in May 1840. It is undisputed. However, what about the second and third issuing entity? Was it a South American Country? Was it a Swiss Canton? Or was it a City in the U.S.A.? Our program offers perspectives – you decide!.
Our Presenters
Mr Thomas Mazza is a highly noted collector, exhibitor and judge. His many accomplishments include: Former Governor and President of the Collectors Club, Alfred F. Lichtenstein Award Winner, Fellow of the Royal Philatelic Society of London, President of Anphilex 1996, board member, general counsel for Washington 2006 and New York 2016.
Alexander Gill is one of the world's most promising "young" philatelists. He is an expertizer at the Philatelic Foundation, Content Writer, Describer and Editor in Chief for several publications, and authored several articles. Alex received the APS's Nicholas G. Carter Award in 2018 and is a graduate of the Young Philatelic Leaders Fellowship program.
Jean-Claude Marchand is considered "the expert" on the stamps, postal history and forgeries of Switzerland and is the embodiment of Swiss diplomacy. He is the President of the Swiss Experts Association, a member of AIEP and the BPP. Since 2008, he is the owner of Giorgino AG, one of Switzerland's largest auction houses. His multi-lingual abilities allow him to bridge the gap between French and German-speaking parts of Switzerland and balance expertising and professional sales through high ethical standards with a commitment to the future of the hobby.
Hosted by: Joan Harmer, VP of the Collectors Club and Wade Saadi, past President and Governor.
Navigate to https://stampex.vfairs.com to register for STAMPEX and then attend the talk on the 26th at 9PM LONDON TIME 5pm in New York