United Postal Stationery Society Special Program
February 15 @ 5:30 pm

-

7:00 pm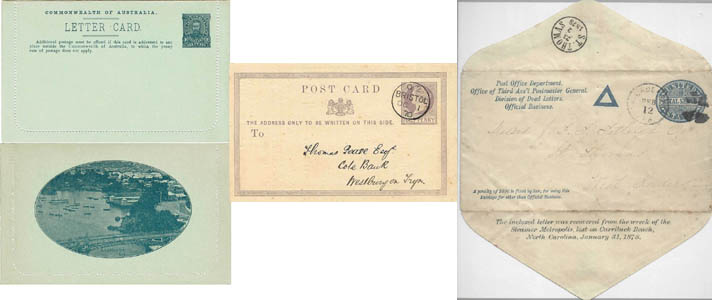 Didier LeGall Australian Letter Cards
Don Heller Early Postal Cards of Britain and Spain
Dennis Schmidt US Official Stamped Envelopes
Letter cards of the Australian Commonwealth – 1911-1912 the 1d Full-Face Design
In 1901 the six separate British self-governing colonies of New South Wales, Queensland, South Australia, Tasmania,Victoria and Western Australia agreed to unite and form the Commonwealth of Australia,
establishing a federal government. For a while the colonies, now states continued issuing their own stamps and stationery. Unifying the postal service took a long time and the iconic Kangaroo, first Commonwealth stamp was issued in 1913. However postal stationery was issued two years earlier in 1911. The accession of King George V in 1910 and his coronation in 1911 was the occasion for the first commonwealth issue: a set of postal cards and a series of illustrated lettercards. The indicium was designed in Australia and is know as the "Full-face Head" of King George V.
The illustrated letter card shown here are an extremely rare, possibly unique, example of the 1911 issue printed on a paper that apparently was a remnant of the stock used by Wester Australia and a thickness of 0.17mm. The illustration is the port of Launceston in Tasmania.
The British Post Office responded to public pressure and the results of the Austrian postal card of 1869, and issued their own card on 1 Oct. 1870. The public responded enthusiastically.
The Spanish Post Office authorized postal cards 10 May 1871, to be issued 1 July 1871, but did not actually issue them until 1 Dec. 1873. There were design and production problems, and hectoring from the irrepressible Dr. Thebussem.
Didier Legall
Philatelic CV
Collector for 60 year, bought first catalog in 1963
Collected US, France and British Commonwealth (including UK)
Got serious about Australian stamps in the 1990s, Joined the APS at the time
Started to collect Australian Postal Stationery as well as Stamps
Joint the Collector's Club of San Francisco around 2013
Joined the UPSS
Also became a member of the Royal Philatelic Society of London
Became a director of the UPSS
Exhibited only once at the APS Winter show in 2017, received a large Gold (UK stamps and covers)
Serves as associate editor of "Postal Stationery" the award winning UPSS Magazine
Currently serving as President of the Collector's Club of San Francisco
Dennis Schmidt
Dennis started collecting stamps as a child. When he became older, he stopped collecting for some years until after I finished medical school and residency. Then he started collecting Officials, but soon realized that he was not able to compete with people collecting the Official stamps or Official covers at that time. However, no one appeared to be seriously collecting the Official stamped envelopes, so he started collecting them and still do today.
Dennis is the editor of the Officials section of the UPSS 19th century catalog and past secretary of the society. I've written several articles about Official stamped envelopes and continue to do so.
He has not exhibited my Official stamped envelopes competitively, although he has several exhibits which I show non-competitively. With Bob Markovits' encouragement he showed my envelopes at the Collectors Club of New York some years ago.
Don Heller, State College, PA
Member of APS, UPSS, CCNY, RPSL, USPCS, AAPE, and a whole bunch more
former Trustee of the APRL
former Pres. of the Mount Nittany Philatelic Society
Show Chairman for SCOPEX (June 10-11, 2023, in Bellefonte, PA)
Collecting Romania, philatelic literature, and worldwide postal stationery, for a really long time.